Face coverings U-turn for England's secondary schools
Secondary pupils will have to wear masks in school corridors in local lockdown areas of England, after the government reversed its guidance.
Head teachers in any secondary school will also have the "flexibility" to introduce masks in their schools.
Education Secretary Gavin Williamson says it follows updated advice from the World Health Organization.
"At each stage we have listened to the latest medical and scientific advice," said Mr Williamson.
The Department for Education says that, for most areas of England, it is keeping its recommendation against using face coverings - but that schools will be able to make their own decision whether to ask pupils and staff to wear them.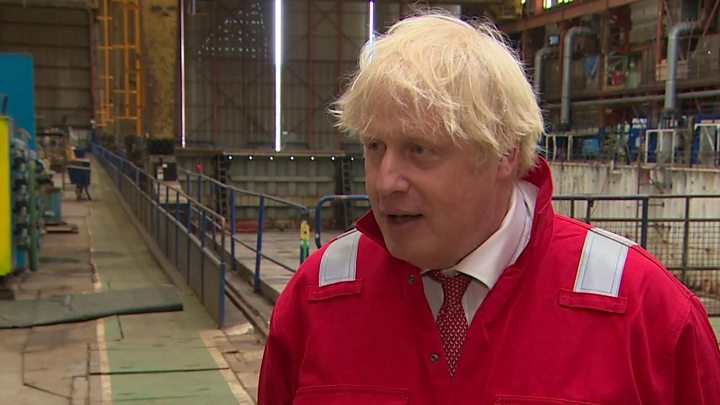 This will be in "communal areas" of schools such as corridors, where it is difficult to have social distancing, and when schools "believe that is right in their particular circumstances".
But in parts of the country with high levels of coronavirus transmission, such as those with local lockdown measures, the wearing of masks will be compulsory in such communal areas for adults and pupils.
But it will still not be necessary to wear face coverings in the classroom, where "protective measures already mean the risks are lower, and where they can inhibit learning".
The new guidelines, which apply from 1 September, also warn that "stricter guidance" on face coverings could apply to all schools "if the rate of transmission increases across the whole country".
The change follows the World Health Organization updating its advice last week, and it now recommends that children aged over 12 should wear masks under the same conditions as adults.
The government had been under pressure over face masks in England's schools - with secondary schools in Scotland to use them in corridors or shared areas from next week.
Northern Ireland is also now advising masks for secondary school corridors and in Wales, a decision on updating the guidance is due on Wednesday.
Prime Minister Boris Johnson had earlier said: "We'll look at the changing medical evidence as we go on, if we need to change the advice then of course we will."
The ASCL head teachers' union had warned of confusion about the rules over face coverings - and said there was a lack of clarity over how schools should respond if teachers or pupils wanted to wear masks.
After the government's change of policy, the union's leader, Geoff Barton, said school leaders would "welcome the flexibility" of being able to "decide what best suits their circumstances".
However, some Tory MPs have criticised the U-turn.
Huw Merriman said telling some pupils to wear face coverings sent "the wrong message" and suggested "schools are not a safe setting".
"My concern is that we just keep making this up as we go along," he told BBC Radio 4's Today programme.
"It's causing uncertainty," he said, adding that the government "needs to get a grip".


The government was under significant pressure to clarify its guidance on face masks, but has stopped short of recommending their use in all secondary schools.
The outraged responses of some Conservative MPs to reports that England would follow Scotland's choice may have played on ministers' minds as they weighed up this decision.
But so, too, will the concerns of parents, teachers and students who need reassurance that sending children back to school will be safe.
But how the new policy is received and whether it evolves will be crucial if the government is to achieve its aim of getting all children back to school in September.

Despite the official guidance against face coverings, some schools had already been preparing to use them.
The Oasis academy trust, with more than 50 schools in England, is to provide visors for its teachers - and secondary pupils were already going to have to wear masks in corridors.
Steve Chalke, chief executive of the trust, said there was a responsibility to make schools "as safe as we possibly can" - and that meant using masks and visors.
Like wearing a school uniform, he said wearing masks would become "part of what we do" and would be part of a wider safety plan, including hand washing and keeping pupils apart in separate "bubbles".
Mr Chalke said masks, which would be provided, would be required in secondary school corridors and shared areas where pupils could not be kept apart.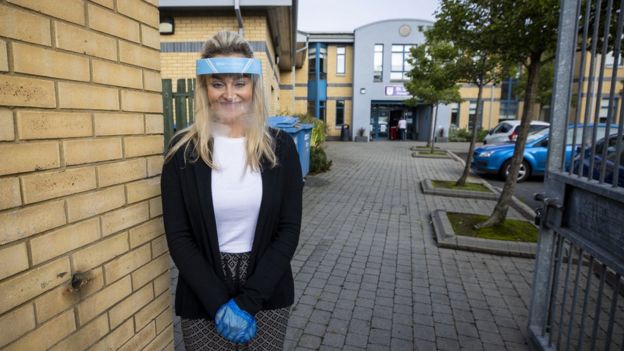 It would be another safety measure for teachers, he said, including those who might have underlying health conditions or be in a more vulnerable age group.
He added that masks might increase the confidence of parents "nervous" about sending their children back to school.
Labour's Shadow Education Secretary Kate Green accused the government of "passing the buck" on decisions back to schools.
"Face coverings should be compulsory in communal areas in schools. Instead of this half baked U-turn, the government should have given clear guidance and a plan to deliver it," she said.
Education Secretary Gavin Williamson said the changes announced would "provide parents, pupils and teachers with further reassurance" and that the "priority is to get children back to school safely".